Star Splash: Shattered Star Press Kit
Welcome to the Star Splash: Shattered Star Press Kit page. Here you will find handy
information, screenshots, art and logos for your articles about the game.
Game information

Platform:
Wii U™
Genre:
Action, Skill
Players:
1 to 2 players
Release date:
February 2nd, 2017
Availability:
North America, Europe, Oceania
Languages:
English, French
Age rating:
ESRB: E for everyone
PEGI: 3+
USK: 0
OFLC: G
Regular price:
(if not listed, visit the
Nintendo eShop on
your Wii U)
$ 3.49 (USD)
$ 3.99 (CAD)
€ 3.49 (EUR)
£ 2.99 (GBP)
$ 4.49 (AUD)
Developer:
Snails Arcade
(our legal name is still Snails Animation but
we will change it to Snails Arcade this year)
Contact:
E-mail
Website:
Official page
Social:
Facebook, Twitter, YouTube
Description
The celestial Mother Star brought balance to the planet for millennia. But because of an evil creature, it is now shattered into thousands of pieces. A courageous dolphin must find the pieces to reconstitute the Mother Star and defeat evil to prevent world devastation!
In "Star Splash: Shattered Star", you must do all sorts of well timed, precise acrobatics to collect stars in over 30 levels. Swim through the seas, jump high in the air, and dive & dash at high speeds to save the Mother Star or compete with a friend in 2 player mode and see who catches the most stars!
About us
Snails Animation will become Snails Arcade this year. After all, our focus has been 100% on video games development for over 10 years! (what took us so long... lol)

Created in 2005 by 2 animation graduates, Snails Animation debuted in making animations and graphics for websites. But we quickly changed our focus to something much more exciting: video games! In 2006 we started to create sponsored Flash games, and are mostly known for the Mesiria RPG series. In 2012 we started to explore the mobile market, in 2014 we made our first PC download game called Castle, and now (2017) we're about to release our very first Wii U game, Star Splash: Shattered Star!

Team
Julien Raymond Tousignant - Project lead, art
Marie-Josée Fournier - Programming, art
(yes, we're a couple ^_^)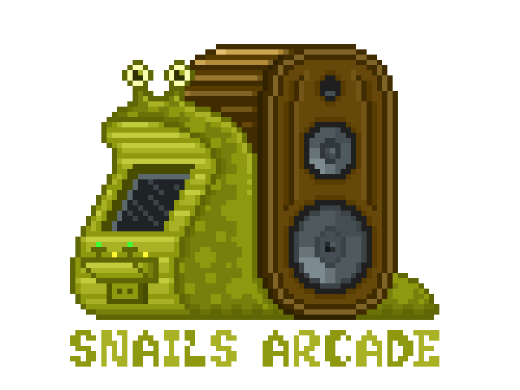 ~ Thank you for your interest in our game! ~
© Snails Arcade / Snails Animation 2005-2017 - Play quality games - Home - Girl Games - Games for your site - Contact